David F. Byers Jr., J.D., LL.M.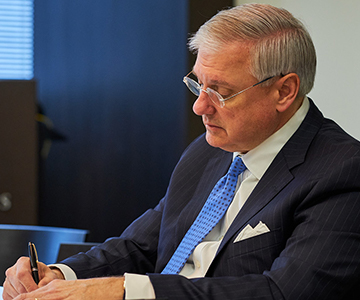 Managing Principal
205.397.2810 
dbyers@capitalstrategies.net
As Managing Principal of Capital Strategies, David directs the areas of Wealth Transfer and Executive Benefits for the firm.
Prior to joining Capital Strategies in 1995, David built a successful business and tax planning practice as a founding partner of a prominent Birmingham law firm. He began his career as an associate attorney with the Birmingham office of Burr & Forman LLP.
David is a member of the Alabama Bar Association.  He is also past President and member of the Board of Directors of FINSECA, formerly the Association of Advanced Life Underwriters (AALU).
Active in the M Financial Group community of member firms, he has served on the Member Firm Relationship Committee (MFRC) and chaired the 2014 Annual M Marketing Meeting. David is a past member of the Board of Directors for M Financial.
David is a frequent speaker for estate planning council and education courses involving tax, insurance and estate planning issues.  He is a co-author of "Switch Dollar and the Power of Deferral" (1), serves on the Board of the National Christian Foundation (Alabama), and is a past Chairman of the Board for King's Home.
David worked to make education in Alabama better by serving for 16 years on the Alabama State Board of Education, the policy-making body for K-12 and Board of Trustees for the Community College System, often as presiding officer.
David holds a B.A. in English and Political Science from the University of Alabama at Birmingham. He received a J.D. from the Cumberland School of Law at Samford University and obtained an LL.M. (Taxation) from New York University.
David and his wife, Karen, have three children and two granddaughters.  In his off time he enjoys reading, wing shooting, and college football.
David is a registered representative of M Holdings Securities, Inc. Alabama Insurance License Number 48478.
Capital Strategies Group, Inc. is an independently owned and operated third party provider.
(1)      Brody, L., Byers, D., & Williams, H. (2018).  Switch dollar and the power of deferral.  Trusts & Estates, 157(4), 37-45.